Obtaining a Repatriation-Ready Certification for Foreign Investment at BSP
Posted by
admin
on July 7th, 2023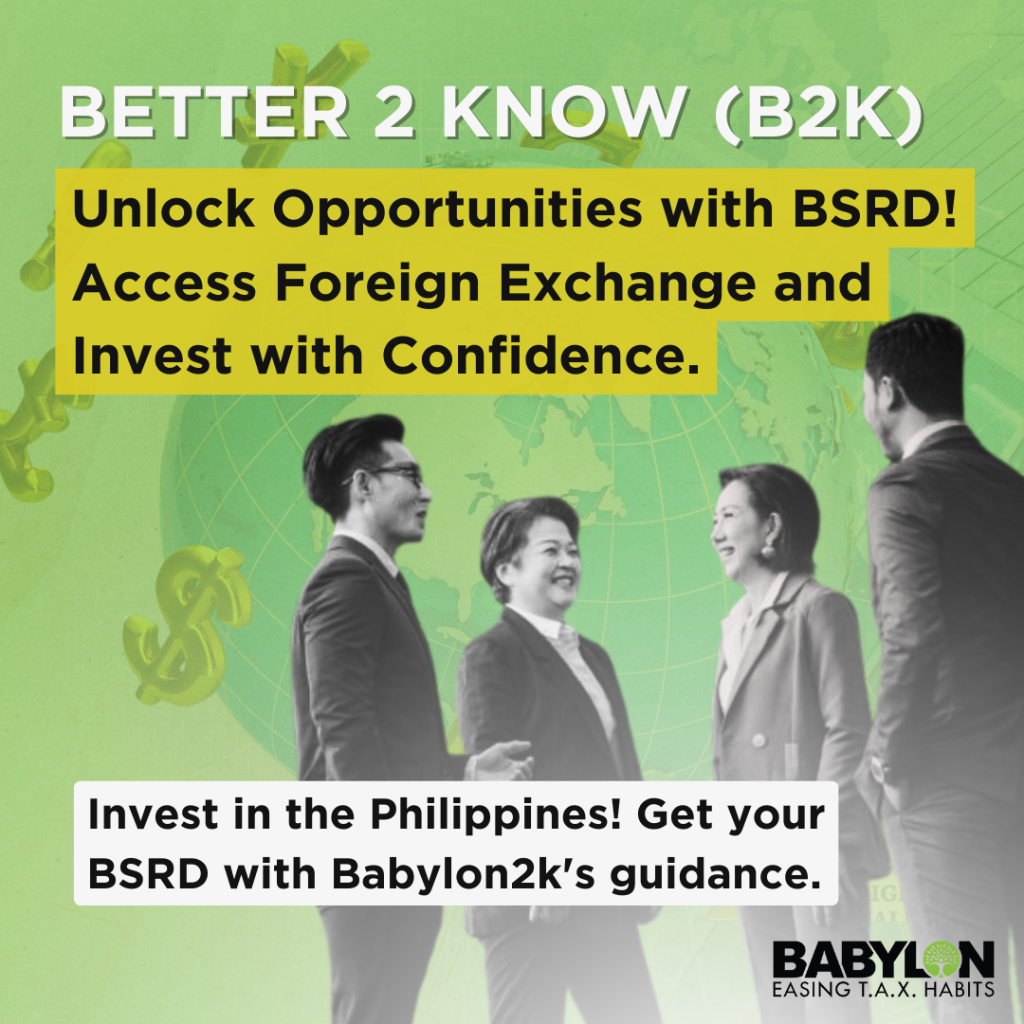 When a non-resident investor is planning to purchase foreign exchange (FX) from the Philippine banking system for repatriation and remittance of earnings from duly registered investments, they are required to obtain a Bangko Sentral Registration Document (BSRD).
The BSRD is issued by the Bangko Sentral ng Pilipinas (BSP), evidencing the registration of foreign investments by non-residents. The BSRD contains a list of onshore investments made by the non-resident investor, such as the Philippine Stock Exchange, and enables the investor to access the FX resources or to purchase FX from Authorized Agent Banks (AABs) or forex corps against Philippine Pesos for servicing or settlement of these transactions.
Hence, foreign investments registrable with the BSP are investments from non-resident entities or individuals, which may be in cash or in kind, in Philippine firms or enterprises not listed at an onshore exchange. If you have plans on applying, investors should apply within one (1) year from the date of inward remittance of the FX funding the investment (for cash investments).
Applicants must submit the following documents to the BSP-IOD: a cover letter, an application for registration of foreign investments, and supporting documents under the FX Manual. After submitting the required documents, the BSP-IOD will evaluate the application. Moreover, additional information or documents may be requested if needed. If the application is complete in form and substance, a BSRD will be issued in favor of the non-resident investor.
Non-resident investors may file an application together with the supporting documents with the International Operations Department (IOD) at Room 301, 5-Storey Bldg. BSP, Manila or apply with Landbank, an Authorized Agent Bank (AAB), as they are now allowed to issue a BSRD..
Be guided to avoid tax penalties. Generate wealth through healthy T.A.X. practices. Avail T.A.X. Satori at https://tax-satori.samcart.com/products/tax-satori-lite.