UHY Global Magazine Issue 13 Available Now Expert Insight and Analysis for World Business
Posted by
admin
on March 21st, 2022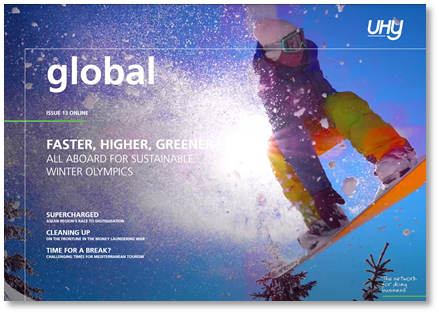 The 13th edition of UHY Global magazine is now available to read online. UHY Global draws on the knowledge of UHY's network of member firms to provide insight and expertise for today's global business community in a thought-provoking, upbeat and engaging read
Topically wide ranging, many features demonstrate the breadth of expertise of UHY colleagues across the world, while others focus on news and global events. UHY Global magazine is a wide-ranging and diverse reading experience, exploring the issues and challenges of international business, themes that you may well be grappling with in today's uncertain world.
For example, the lead feature this time looks at the importance of digitalisation to the recovery of Southeast Asian economies, and how governments, businesses and individuals need to work together to plug gaps in digital infrastructure and skills.
Other features focus on how the accounting profession is tackling the rise of money laundering, whether cryptocurrencies are becoming mainstream, and how Mediterranean economies are responding to Covid's impact on tourism. There are also client stories from the network's member firms in Slovenia and Spain.
UHY Global's online edition also gives you hyperlink access to source reports, additional graphics, narrative and direct contact details of UHY contributors – so if you want to find out more about any of our topics, UHY Global online makes it easy. If you prefer an offline read, the print version is downloadable as a PDF from the online menu bar.
UHY Global is not only a good read, it is also a source of valuable information about the UHY international network – our services, our commitment to quality, and a directory of offices in over 100 countries.